WELCOME TO SMOOT SMACK ONLINE
Brought to you by the Unofficial Fred Smoot Fan Club
this site has been mentioned by MONDAY NIGHT FOOTBALL, CBS TV, ESPN TV, Sports Illustratated, JP Sports TV, numerous newspapers and media websites
---
---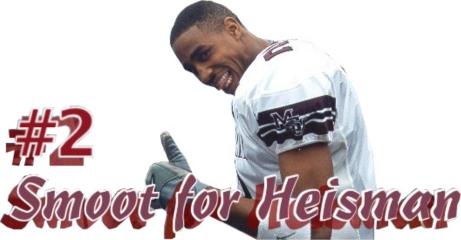 ---
Ole Miss Game Notes
Arkansas Game Notes
Alabama Game Notes
Kentucky Game Notes
Middle Tennessee Game Notes
LSU Game Notes
Auburn Game Notes
Florida Game Notes
SC Game Notes
BYU Game Notes
Memphis Game Notes
---
Fred Smoot
All-American Senior Defensive Corner Back for Mississippi State
6 foot 1 inch, 173 pounds
Birthday: April 17, 1979
Jackson, Mississippi
Named first-team preseason All-America by at least six college football publications in 2000.
His five pass interceptions in 1999 tied for the second-most in the SEC.
His five thefts were also the sixth-most in State's single-season record book.
Finished the season with interceptions in the final three games of the season (Arkansas, Ole Miss and Clemson).
Named first-team, JUCO All-America at Hinds (Miss.) Community College.
Started all 12 games last season with 57 total tackles (39 solos).
Named first-team All-SEC last season by Associated Press and second-team by the league's coaches.
4.4 40-yard speed
4.1 mouth speed
---
Smoot is living large and the football field cannot contain him.
Give me the SMOOT SMACK!!!
---
Fun Stuff
Check the Ole Miss HYPE site out! Too funny -- too true!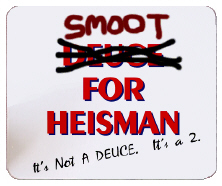 Download the "Who is Fred Smoot" Flash Movie by Stephanie Martin and Jeff Cook

---

This website is being powered by Lotus Domino.

DISCLAIMER
THIS WEB SITE IS NOT FRED SMOOT's PERSONAL WEB SITE.
This site is an individually owned website of a MSU football fan and solely the opinion of a few MSU football fans.
While it is believed that all comments are accurate from Fred Smoot, this cannot be guaranteed even though it may be implied.
The content and opinions expressed on this website is not in any way endorsed or governed by Mississippi State University or Fred Smoot.
"Smoot for Heisman" is intended as humor, and is not an actual promotion for the Heisman Trophy.
No content on this site may be copied, re-used, or sold unless in compliance with Mississippi State University and the NCAA.
Any content on this website can and will be removed at the request of Fred Smoot, MSU, or the NCAA.
Do not operate heavy equipment, drive a car, or have a full mouth of food/beverage while viewing this website.